MINICUT2D v1.2 : Digital fabrication at least for everyone.
The full video presentation is at the bottom of the page.
We re-designed the access to CNC machines
Today, digital fabrication becomes affordable. Most people would like to get a 3d printer or a CNC router on their desktop. But how to be creative with it? How to begin? How to teach with it? Which machine has a safe and fast process ? Which one is durable and easy to transport?
We decided to take care of these needs. We designed an entirely easy-to-access-and-progress machine, using our 12 years experience in digital fabrication: the MiniCut2d.
Clic on the pictures for zooming.
With the MiniCut2d, your ideas become reality in minutes. A hot wire is moved through the material and cut it like magic. A simple process for a powerful creativity machine. And because all of you have different skills, MiniCut2d offers different levels of use :
Drop shapes and letters from the library to make assembled projects.
Draw your project manually on a sheet of paper, take a picture, and cut your project.
Cut several pieces at once just by connecting them.
Copy pictures on Internet, or copy your screen, and cut them.
Cut several projects at a time with the wire cutting through multiple thicknesses.
Use DXF files to begin with CAD or use it as an expert.
Interact with SketchUp to become a 3D expert.
Find ideas and share your projects on a dedicated website.
Code your own drawing software.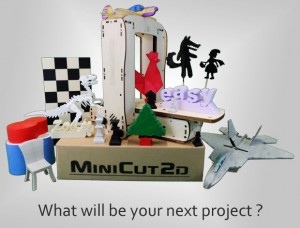 We designed the hardware and the software, for all of you, and make it open source.
« The MiniCut2D is a perfect equipment to deliver workshops to all audiences. »
Richard de Logu – BUG Association Director (Rennes – France)
Make first contact as simple and fast as it can be
MiniCut2d is a computer controlled machine that works with it's own software. The motion of the cutting wire is represented by a single continuous line through the rectangle of the material.
The first project is very easy to do : just create your personal continuous line by dragging letters of the library.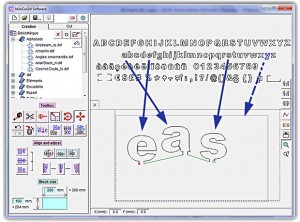 Then put a block of material on the plate, and you're ready.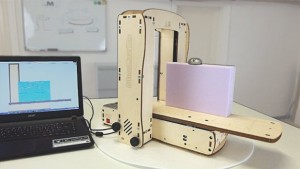 Now it's time for you to cut…
With MiniCut2d, you have only to set up the heat of the wire to have a 1mm groove, save it for future usage, and launch the cut. The wire will heat and move. And the material will meld on its path, with no effort, no noise, no dust.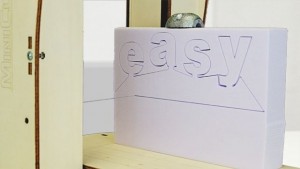 It take between 4 to 20 minutes, depending of your project. Then your 2D line on the screen becomes your 3D project in our hands. And it looks exactly like on the screen, with a direct surface finish.
"The big advantage of MiniCut2d is that it can be used quickly by children / beginners…It allows a first approach to the construction / production 2D / 3D much less complex than using a 3D printer."
Marylin – Cyber-base space (Folleli – France)

…and to live a creative progression…
After your first drag-and-drop realizations, the usage of MiniCut2d will increase progressively your skills, naturally. There is no high step in front of you, such as a big wall. But several little steps to your goals.
For more personal and quick projects, we coded a terrific vectorization process. MiniCut2d Software will recognize the outline of every contrasted picture. It opens to you an infinite number of fast creation possibilities :
Pictures from Internet (keyword : « silhouette »)
Manual drawings (then photo or scan)
Drawings and letters in word processor softwares (then « printscreen » key)
Every drawing software (.jpg, .bmp…)
More than one piece ? Connect them with a black line. You can correct the errors with white if needed (correction fluid on manual drawings, white shape on screen).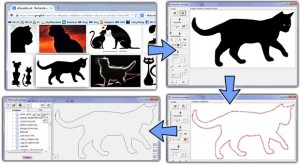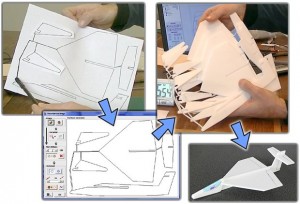 We made several videos to show you all the possibilities.
In the software, your projects are stored in a library, with a direct visual access. Click on a file in the list, and you immediately see its content. You can use parts of different files to make a new project, just drag and drop. And the software tools allow you to cut, move, rotate, measure, or strech your shapes, to fit the final dimensions and positions.
A complex project from a blank sheet in 36 minutes !
…for finally becoming a specialist…
With vectorization, you can go far away in the creativity process, and it will be the fastest way for you to make a lot of awesome projects. You'll become a hot-wire-cutting master.
But the MiniCut2d can take you further. If you want to learn CAD softwares, our machine will still be there, as a leverage for your motivation and a fast process of fabrication. Its' software is able to open DXF files, a common exchange format for CAD software and vector graphics editors. FreeCAD, NanoCAD, AutoCAD, Illustrator, Inkscape, 123DMake… whatever software you choose to learn, you will be able to export your production in DXF files. And use it with the MiniCut2d.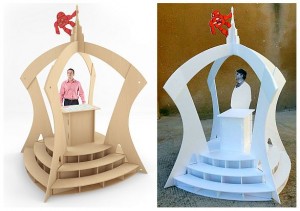 …and go further
SketchUp is one of the most famous 3D CAD software for beginners to experts. When you will be ready to use it, a free plugin will allow you to export your work in MiniCut2d's library. We made this plugin for you, and it gives you acces to all of the shapes of the Trimble SketchUp Warehouse.
An maybe one day you will start to learn – or teach – how to code a software. With a very simple TXT file format, MiniCut2d will give you the opportunity to make your own shapes editor. We even propose on our website an easy way to use Scratch – the MIT free software for young coders – for create these files.
And the virtual will become real, the computer will become a tool, again.
What can I make with my MiniCut2d ?
Here are some examples. (You can find more pictures and videos on hotwireproject.com.) But with creativity, only the sky is the limit !
3D words of course (names for wedding for example), like we said before.
Planes hand launched, RC-planes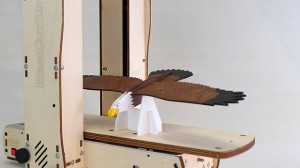 Decorations by theme : Christmas, Halloween…
Original set of chess characters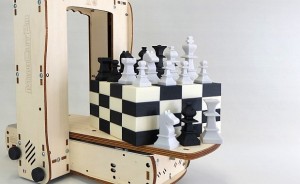 Personnalised clocks
RC-hovercrafts (click on the picture below)
Lampshades
Shadow theaters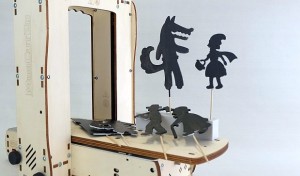 Models of bridges, houses, castels
Models of chairs, bed, tables
Showrooms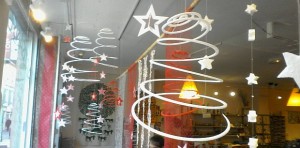 Packaging
Marble games
Logos
Stencils
…
All the length of the wire is cutting
Thanks to all of the 150mm wire is heating, all the 150mm wire is cutting. The hot wire is the only process allowing you to cut a so big thickness (and with a only 1mm large toolpath). Thanks to this capacity :
The material thickness can be big in your projects. You are on the way from 2D to 3D.
It's easy to do multiple sides cuts for creating incredibles 3D shapes.
It allows you to do serial cutting with sheets of foam. Up to 24 cut of the same project, at a time !
Assemblies easy to glue, projects easy to paint
Pattex 100%, UHU Creativ', Pattex Styropor, Rapid wood glue… it's easy to glue polystyren. And for the finish, all the acrylic-based paints and the creative markers give you an infinite choice of colors.

A reliable, portable and foldable machine
Because MiniCut2d use a simple process, settings are fast, simple and durable. The solid motion mechanics has no expendables parts and you don't have to re-set up the machine every day.
Its size is designed to fit on your desktop, always ready to use. A handle allows you to move it safely, and it can be folded to be carried in a suitcase, or stored in a drawer.
You can share your projects
When we designed MiniCut2d, creativity was one of our main concerns. But we wanted to propose a useful bank of ideas for launching the new users. So we created www.hotwireprojects.com, an interactive sharing website with an open source structure.
It allows you to find ideas or make processes, and to easily share your creations with your friends and other owners of MiniCut2d.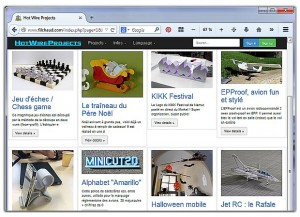 We think it could also be a good motivating tool for the teachers : « Hey Mum, my project was selected to be on the website, come to see it ! »
You can produce educational supports
MiniCut2d can do serial cutting. You can cut more than 24 sheets of 3mm foam at a time. One project for each of your student in less than 20 minutes.
You can interact in public events
We made a lot of public event with MiniCut2d. Each time, MiniCut2d was the most interactive machine with visitors.
The affordability and quickness allows visitors to make a complete project in less than 15 minutes. You just have to explain the basics to them and then let them do it. And they go out of your stand with their project, and a big smile on the face and lights in their eyes.
« We're a victim of our success because during events to which we were invited, we have new requests from the public and we plan to open new [MiniCut2d's] workshops. » Mostapha Hadji – JET'S Association President (Montreuil – France)
MiniCut2d face to face with other machines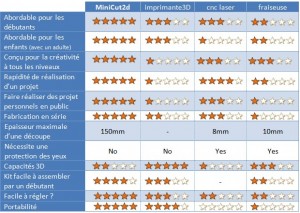 To sum up : easy-to-access, fast, creative oriented, learning and teaching oriented, no dust, easy to store and move, durable, and great for making various projects for everyday life.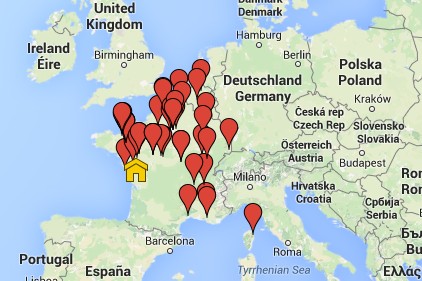 What do I get ?
If you buy a mounted machine , you'll just have to get it out of the box, to unfold it and it will be ready for connection and cutting. A printed user guide will be supplied with the machine as well as a wire replacement in case of accidental breakage (see the FAQ: « How long is the life of the wire? Should I change it?« ).
If you buy a kit: you will receive, carefully packed, everything needed to assemble a MiniCut2d ready to be cut and a wire replacement in case of accidental breakage (see the FAQ: « How long is the life of the wire? Should I change it?« ). You will just need two screwdrivers, a pair of scissors and (optional but recommended) small pliers. No soldering required. Mounting instructions and user manual are available for download in english on our website. The technical parts are pre-assembled in our workshop, so it will take you less than 5 hours to be ready to connect it to your computer.

« … the MiniCut2d is the most fun I have had building a kit for some time – I'm very impressed with the quality and fit of the parts." Michael Castor – Raspberry Pi Tablet Maker (Columbus – USA)
Technical specifications :

Unfolded dimensions : 450mm x 300mm x 420 mm
Folded : 625mm x 300mm x 105mm
Weight: 3.7kg (power supply and cord included)
Working volume: Lenght: 300mm, Height: 264mm, Thickness: 156mm
Voltage AC power supply: 100-240V at 50/60Hz
Continuous electrical output voltage: 12V
Max output current: 5A
USB connection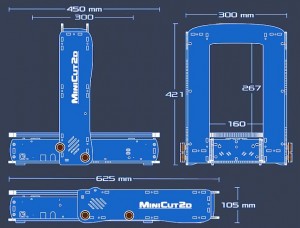 MiniCut2d is not a plastic molded machine. The v1.2 is assembled by nuts and bolts and can be easily opened. The benefit is double. First, it allows us to product the kit ourselves with all the mechanicals parts coming from Europe, and with only a reasonable delay. But we think that another important thing is that you will able to easily open your machine, to see its inside and understand how it works and how it was designed.
What about the software ?
MiniCut2d Software is free and open source. You can test it without the machine,  by downloading it from www.minicut2d.com. (You can also use it as a vectorization tool with DXF exportation if you already have CNC machines.)
It works on Windows from XP to 8, 32 or 64 bits. It's easy to install with only one setup. Follow the instructions provided on the website and it will work.
We developed this software  from scratch with beginners' feedback. Files viewer, drag and drop, toolbox, and so it will take you only minutes to understand how it works. You can choose your language between English, German, French, or Spanish.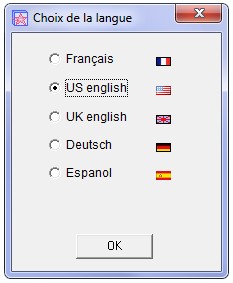 Where do you find the foam ?
MiniCut2d is designed to cut hard polystyrene foams. Polystyrene foams are insulation materials and you will find them easely in material stores at very affordables prices. You can also recycle packaging polystyrene parts.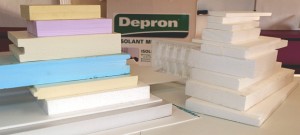 The extruded polystyrene is strong and smooth, and when it's painted, it looks like plastic, or like wood. It's available in many colors and thicknesses, called Styrofoam, Styrodur…
The Depron® is polystyrene extruded in white sheets of 3, 6 or 10mm thickness. It's a wall insulation material that is generally stored at the paint and wallpaper section of the stores. It's often used for airplane models and can also be found in the RC parts stores.
The expanded polystyrene is made of small balls. It's the cheapest, but not the smoothest. It can be found in material stores or in packaging.
What are the settings for a cut ?
Thanks to our huge experience in hot wire machines, we were able to invent a single setting process : you just have to set up once the heat of the wire. Follow a 2 minutes procedure, to obtain visually a 1mm groove. Save the value for later, and that's it. Every time you use the same material, you'll just have to choose the name in the list.
Technically : With MiniCut2d, the cut is done at constant speed of 4mm per second. Because the groove of the wire is 1mm large, the toolpath will be offset by 0.5mm. So, the final result will have the right dimensions.

Expert mode : Our single setting process is perfect for cutting polystyrenes. MiniCut2d was designed for these materials. But our users have asked us for more settings options. They wanted to test other foams (like EPP) with different speeds (if you cut EPP too fast, it will re-solder after the wire). So we created an Expert mode with more settings (speed and offset).
How to buy the MiniCut2d ?
You can order by email (we send you a quotation) or buy in our online shop. (we use PayPal).
Another question ?
Use the forum to ask us or the email cncfilchaud@yahoo.fr.
The video full presentation
(You must change the settings on the right corner of the youtube player to see the video in better quality : 720p-HD or 1080p-full HD).